Tel: +91 (0) 40-64564307 | Website: www.bluedart.com
Type your Blue Dart tracking number below, get live delivery information with our express tracking system.
About Blue Dart

Blue Dart are South Asia's premier courier, and integrated express package Distribution Company. They have the most extensive domestic network covering over 33,637 locations, and service more than 220 countries and territories worldwide through their group company DHL, the premier global brand name in express distribution services.
Blue Dart Tracking Help
If you have problem with our express tracking system, please track your package directly on the Blue Dart website.
If you get no tracking information from Blue Dart official website, you'd better contact them.
Blue Dart Tracking Number Format
If you have shipped through Blue Dart, you will have received a copy of your Waybill. Each waybill has a distinct number which can vary between 8 to 11 digits(eg: 321119864, 321119865).
Here is a waybill sample which shows the blue dart tracking number is 13749831292.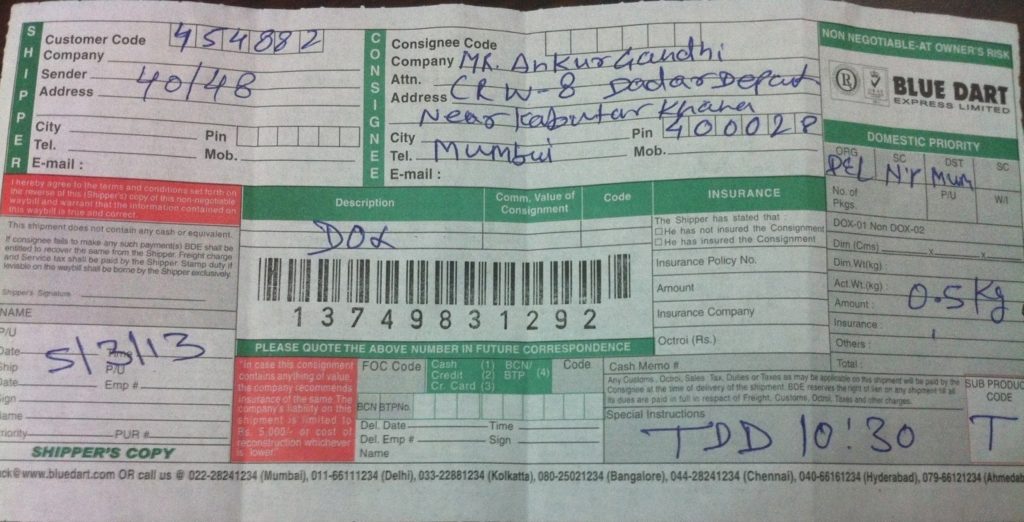 Blue Dart News
Blue Dart Reviews
Have no idea about Blue Dart? Read Blue Dart reviews in advance and write a review after sending your package with Blue Dart.
Related Tracking
Help Center of Blue Dart Tracking
If you have problem with our Blue Dart Tracking system, submit your problem here, we will help you as soon as possible.
Declare: We can NOT contact carrier or others on your behalf, we can only help you track your package with your Blue Dart tracking number on official tracking system.