Tel: +91 (0) 40-64564307 | Website: www.aae.com.au
Type your AAE tracking number below, get live delivery information with our express tracking system.
About Australian Air Express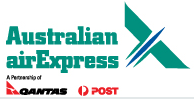 Australian Air Express is a logistics company based in Melbourne, Australia. It operates freight-only services within Australia using leased Qantas, National Jet Systems, and Pel-Air aircraft and a fleet of land vehicles. Its main base is Melbourne Airport. ounded in the Queensland outback in 1920, Qantas has grown to be Australia's largest domestic and international airline. Registered originally as the Queensland and Northern Territory Aerial Services Limited (QANTAS), Qantas is widely regarded as the world's leading long distance airline and one of the strongest brands in Australia.
AAE Tracking Help
If you have problem with our express tracking system, please track your package directly on the Australian Air Express website.
If you get no tracking information from Australian Air Express official website, you'd better contact them.
Australian Air Express Tracking Number Format
If you have shipped through Australian Air Express, you will have received a copy of your Waybill. Each waybill has a distinct number which can vary between 8 to 10 digits(eg: Z9N83320, 4825582819).
Related Tracking
Help Center of Australian Air Express Tracking
If you have problem with our Australian Air Express Tracking system, submit your problem here, we will help you as soon as possible.
Declare: We can NOT contact carrier or others on your behalf, we can only help you track your package with your Australian Air Express tracking number on official tracking system.