Tel: +1-888-SHIP-911 | Website: www.shippei.com
Type your PEI tracking number below, get live delivery information with our express tracking system.
About PEI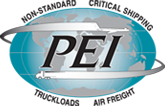 Founded in 1992 by Michele Wilson and Vicky Carver, PEI began as a small air freight forwarding company in Atlanta, GA. Innovators but not risk-takers, we think outside the box while assessing the most reliable ways to make our customers successful. As a truckload carrier, truck brokers and air freight forwarders we specialize in delivering the best solutions available—especially the "never been done before" challenges.
PEI Tracking Help
If you have problem with our express tracking system, please track your package directly on the PEI website.
If you get no tracking information from PEI official website, you'd better contact them.
Related Tracking
Help Center of PEI Tracking
If you have problem with our PEI Tracking system, submit your problem here, we will help you as soon as possible.
Declare: We can NOT contact carrier or others on your behalf, we can only help you track your package with your PEI tracking number on official tracking system.