Type your Knight Transportation tracking number below, get live delivery information with our express tracking system.
About Knight Transportation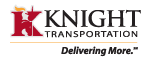 Knight Transportation is a truckload company that delivers value for customers through 29 regional Service Centers strategically placed to provide broad coverage in high-density lanes. We are structured to serve locally, ship nationally, and think globally. We keep an eye on the big picture, and the bottom line. We're always looking for new ways to provide greater choice for our customers, and a stronger foundation for our business. That's why we offer additional services through our wholly owned subsidiaries: Knight Brokerage and Knight Refrigerated. We'll always strive to expand our business and give you more. But no matter how far we go or how big we grow, we'll always be "Your Hometown National Carrier."
Knight Transportation Tracking Help
If you have problem with our express tracking system, please track your package directly on the Knight Transportation website.
If you get no tracking information from Knight Transportation official website, you'd better contact them.
Related Tracking
Help Center of Knight Transportation Tracking
If you have problem with our Knight Transportation Tracking system, submit your problem here, we will help you as soon as possible.
Declare: We can NOT contact carrier or others on your behalf, we can only help you track your package with your Knight Transportation tracking number on official tracking system.