Tel: +1-08-237-2244 | Website: www.browntransfer.com
Type your Brown Transfer tracking number below, get live delivery information with our express tracking system.
About Brown Transfer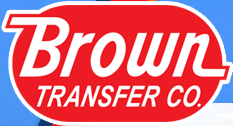 Founded in 1925, Brown Transfer Company is now a third-generation family owned and operated business. Our corporate headquarter is located in Kearney, Nebraska at the heart of the state. We have seven strategically located terminals through out our service area to provide our customers with consistent dependable service. Our Omaha, Denver and Kansas City facilities enable us to extend our services coast to coast through our network of transportation partners.
Brown Transfer Tracking Help
If you have problem with our express tracking system, please track your package directly on the Brown Transfer website.
If you get no tracking information from Brown Transfer official website, you'd better contact them.
Brown Transfer Reviews
Have no idea about Brown Transfer? Read Brown Transfer reviews in advance and write a review after sending your package with Brown Transfer.
Related Tracking
Help Center of Brown Transfer Tracking
If you have problem with our Brown Transfer Tracking system, submit your problem here, we will help you as soon as possible.
Declare: We can NOT contact carrier or others on your behalf, we can only help you track your package with your Brown Transfer tracking number on official tracking system.