Type your Admiral tracking number below, get live delivery information with our express tracking system.
About Admiral Merchants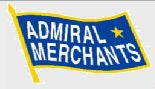 Admiral Merchants is the result of the integration of three old-line trucking firms in the 1960s. Bob Short, a Minneapolis-based transportation proprietor, professional sports and real estate entrepreneur, purchased Merchants Motor Freight and later Jack Cole/Dixie Highway Express. He merged them with his Admiral Transit to form a transportation company which provided LTL service from a system of warehouses covering the entire eastern half of the United States.
Admiral Tracking Help
If you have problem with our express tracking system, please track your package directly on the Admiral website.
If you get no tracking information from Admiral official website, you'd better contact them.
Related Tracking
Admiral Tracking Help
If you have problem with our Admiral Merchants Tracking system, submit your problem here, we will help you as soon as possible.
Declare: We can NOT contact carrier or others on your behalf, we can only help you track your package with your Admiral tracking number on official tracking system.