Tel: +1 800-447-2012 | Website: www.standardforwarding.com
Type your Standard Forwarding tracking number below, get live delivery information with our express tracking system.
About Standard Forwarding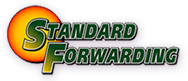 Standard Forwarding is a top-quality LTL carrier with 17 terminals spread throughout the Midwest. We provide overnight service within and between Illinois, Iowa, Wisconsin, Indiana, Minnesota, as well as St. Louis, MO, Omaha, NE, and southern Michigan. To this day, we continue our tradition of excellence by putting our customers first. Headquartered in East Moline, IL, service is at the heart of our culture. Of particular concern is that every customer is completely confident that we will deliver as promised and that they are kept up to date on their shipment's status at all times. Since Standard's founding in 1934, technologies have changed, customer expectations have risen and competition has increased. In every area, Standard has been on the leading edge of positive change.
Standard Forwarding Tracking Help
If you have problem with our express tracking system, please track your package directly on the Standard Forwarding website.
If you get no tracking information from Standard Forwarding official website, you'd better contact them.
Standard Forwarding Reviews
Have no idea about Standard Forwarding? Read Standard Forwarding reviews in advance and write a review after sending your package with Standard Forwarding.
Related Tracking
Help Center of Standard Forwarding Tracking
If you have problem with our Standard Forwarding Tracking system, submit your problem here, we will help you as soon as possible.
Declare: We can NOT contact carrier or others on your behalf, we can only help you track your package with your Standard Forwarding tracking number on official tracking system.