Type your Emirates Cargo tracking number below, get live delivery information with our express tracking system.
About Emirates Cargo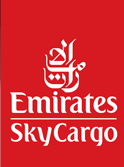 Emirates SkyCargo is a cargo airline based in Dubai, United Arab Emirates. It is the air freight division of Emirates, which started operations in October 1985, the same year Emirates was formed. Since then it has been the main cargo division of Emirates, and the anchor cargo airline at Dubai International Airport, its main hub. Emirates SkyCargo operates dedicated cargo flights to 20 destinations in 15 countries from Dubai International Airport, and through the Emirates network has access to additional 79 destinations. Whilst using bellyhold capacity in the Emirates' passenger fleet, it also operate freighter aircraft to various destinations. Emirates SkyCargo is a subsidiary of The Emirates Group, which has over 40,000 employees, and is wholly owned by the Government of Dubai directly under the Investment Corporation of Dubai.
Emirates Cargo Tracking Help
Emirates Cargo Tracking Number Format
When you ship with Emirates SkyCargo, you will get a emirates cargo tracking number with format 176-12345678, 176 is Emirates SkyCargo's prefix.
Related Tracking
Help Center of Emirates Cargo Tracking
If you have problem with our Emirates Cargo Tracking system, submit your problem here, we will help you as soon as possible.
Declare: We can NOT contact carrier or others on your behalf, we can only help you track your package with your Emirates Cargo tracking number on official tracking system.