Tel: 1-800-765-7242 | Website: www.saia.com
Type your Saia tracking number below, get live delivery information with our express tracking system.
About Saia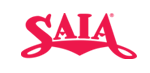 Saia, Inc. (NASDAQ: SAIA) is among the leading regional less-than-truckload (LTL) companies in the United States with revenue exceeding $900 million annually, serving the Midwest, South, Southwest, Pacific Northwest, and Western regions of the United States. North American partner coverage is offered in Alaska, Hawaii, and New England and also extends to Canada, Mexico and Puerto Rico.
Saia Tracking Help
If you have problem with our express tracking system, please track your package directly on the Saia website.
If you get no tracking information from Saia official website, you'd better contact them.
Saia Tracking Number Format
If you have shipped through Saia, you will have received a copy of your Waybill. Each waybill has a tracking number which is a 12 digits.
Here is a example number if you track your Saia by Pro Number:

The entry number would be : 00410252280
Pro number must be 6 (the last digit to a pro number is the check digit. This is not needed to track shipments.)
Saia News
Saia Reviews
Have no idea about Saia? Read Saia reviews in advance and write a review after sending your package with Saia.
Related Tracking
Help Center of Saia Tracking
If you have problem with our Saia Tracking system, submit your problem here, we will help you as soon as possible.
Declare: We can NOT contact carrier or others on your behalf, we can only help you track your package with your Saia tracking number on official tracking system.