Type your Hercules tracking number below, get live delivery information with our express tracking system.
About Hercules Forwarding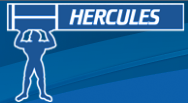 Hercules Forwarding Inc. is an asset based motor carrier headquartered in New Westminster, British Columbia, Canada. Hercules is an award winning general commodities dry van carrier. Specializing in US to Canada LTL shipments, Hercules provides a safe and reliable transportation solution customers can depend on. The carrier hosts the latest technology and advancements available to truck carriers and is a responsible partner with Canada Border Services Agency, and US Customs and Border Protection.
Hercules Forwarding Tracking Help
If you have problem with our express tracking system, please track your package directly on the Hercules Forwarding website.
If you get no tracking information from Hercules Forwarding official website, you'd better contact them.
Related Tracking
Help Center of Hercules Tracking
If you have problem with our Hercules Tracking system, submit your problem here, we will help you as soon as possible.
Declare: We can NOT contact carrier or others on your behalf, we can only help you track your package with your Hercules tracking number on official tracking system.