Tel: +1-800-468-9999 | Website: www.dylt.com
Type your Daylight Transport tracking number below, get live delivery information with our express tracking system.
About Daylight Transport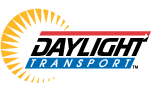 Daylight is an American success story. We were founded in 1977, when cross-country transit times averaged 7 to 15 days. Through innovations like two-driver sleeper teams, we brought this down to 2 to 3 days, coast to coast. Daylight has grown steadily over the past three decades and is now one of the nation's leading expedited LTL carriers. Not only are we the nation's fastest LTL carrier, coast to coast, we think fast and respond quickly. Instead of bureaucracy, we give you flexibility. Our people are empowered with both the knowledge and the authority to make decisions on your behalf, from line haul to accounting. We get you answers and, more importantly, action!
Daylight Tracking Help
If you have problem with our express tracking system, please track your package directly on the Daylight website.
If you get no tracking information from Daylight official website, you'd better contact them.
Daylight Tracking Number Format
If you have shipped through Daylight Transport, you will have received a copy of your Waybill. Each waybill has a distinct number which is a 8 digits(eg: 24744112, 321119865).
Daylight Transport News
Daylight Transport Reviews
Have no idea about Daylight? Read Daylight reviews in advance and write a review after sending your package with Daylight.
Related Tracking
Help Center of Daylight Transport Tracking
If you have problem with our Daylight Transport Tracking system, submit your problem here, we will help you as soon as possible.
Declare: We can NOT contact carrier or others on your behalf, we can only help you track your package with your Daylight Transport tracking number on official tracking system.