Type your Conterm tracking number below, get live delivery information with our express tracking system.
About Conterm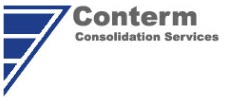 Conterm, through its affiliation with NACA Logistics (USA) Inc., is a leading global NVOCC operating between the world's key trading economies with a network of offices and agents in over 100 countries. Over the course of the company's history, Conterm has achieved a reputation for quality service by recognizing and meeting the needs of its global clientele; making professional and personal service the standard of the industry. Conterm is a member of the OTS Logistics group. In January 2012, OTS Logistics Group was acquired by London based private equity Man Capital LLP.
Conterm Tracking Help
If you have problem with our express tracking system, please track your package directly on the Conterm website.
If you get no tracking information from Conterm Consolidation Services official website, you'd better contact them.
Related Tracking
Help Center of Conterm Tracking
If you have problem with our Conterm Tracking system, submit your problem here, we will help you as soon as possible.
Declare: We can NOT contact carrier or others on your behalf, we can only help you track your package with your Conterm Consolidation Services tracking number on official tracking system.